The Latest News

"By providing smart guidance during the financial crisis, the nation's best advisors proved their mettle." Barron's 2010
In 2010, 2011 and 2012 Barron's Magazine lists David Mallach as one of the top one thousand advisors in the United States. On this site you can purchase his books.
"Turning Final is, in plain English, a great read, and much more. Its in-depth characters range from self-serving politician U.S. Senator Becket Rosemore, who will do anything to win the presidency, and the spiritualist Camille O'Keefe, who believes she is fated to help Beck realize his ambitions for the greater good of humankind, to Frank Lonza, a man with a dark past who seeks to find the light through O"Keefe, and Harry Pierson, Beck's ally and the ultimate political fixer
who will do anything to win, even sin." Sharon Cromwell
Turning Final will soon be available as an MP3 Audio Book
Audio books have become very popular and you can now purchase David Mallach's novels on CD in MP3 format. CDR's with MP3 (music or audio books) have been a popular format for some time now and will play on the majority of CD Players at home and in your car. You can also copy the MP3 files to your memory card or directly to your portable device.
All of the books are narrated by Dave Giorgio. Dave is an audio producer, voice over talent and musician. He has performed live at more than one thousand events, has written hundreds of original songs, and has produced more than 200 audio books and has earned two Gold records.
David Mallach's latest novel "Turning Final" a White House Thriller is available now!
NOW AVAILABLE! David Mallach's latest novel, "Turning Final"
David's latest is available now in printed hardback and soon in MP3/CD Audio Book formats.
Order your hard copy by clicking here.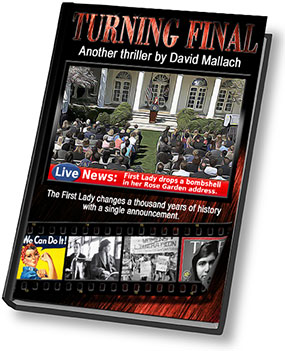 Turning Final is David Mallach's sixth novel. Set in the wake of a momentous political victory for Senator Becket Rosemore, the story that unfolds takes us behind the scenes of a man who would be president. Setting his sights on the White House, Beck embarks on a journey to become the most powerful man in the world. He enjoys rock-star status and appears to be a force for change and equality. He enlists the help of his fiancée, Camille O'Keefe, a renowned author and spiritualist, who can bring a wider, softer appeal to his candidacy. Everything in Beck's life is going according to plan.
As the story progresses, Turning Final heads in a very different direction. Mallach takes us into a world we seldom see, a world where the most powerful men in the world reveal who they really are. What unfolds is a penetrating, disturbing tale of privilege, deceit, and abuse. Mallach shows us the darkness that lurks inside the men who run our world, a world on the precipice of moral decline, and he does so with startling clarity and frankness.
In the midst of the turmoil, Camille O'Keefe emerges as a force of her own, a genuinely female voice that gives us hope for the spirit of possibility. Camille O'Keefe must wend her way through a world which she is ill-equipped to handle. She must find within herself the well-spring of her own power, a model for hope and humanity the world over.

"Turning Final, David A. Mallach's sixth novel, is a spellbinding tour-de-force that combines complex characters, attention-grabbing dialogue, and a riveting plot. Its main protagonists, U.S. Senator Becket Rosemore, a charismatic but untrustworthy man, and Camille O'Keefe, a spiritual woman who is beautiful inside and out, have known each other during many previous lives. Their dance through the novel is fascinating and culminates in a shocking end. Turning Final stands as David Mallach's most brilliant novel yet, and leaves the reader wanting more." Sharon Cromwell

---
This book is a work of fiction. Therefore, it should not be assumed by any reader that any specific investment or investment strategy made reference to in this book will be either profitable or equal historical or anticipated performance levels. It should also not be assumed that the performance of any specific investment style or sector will be either profitable or equal its corresponding historical index benchmark. Finally, different types of investments involve varying degrees of risk, and there can be no assurance that any specific investment or investment strategy made reference to in this book will be suitable or otherwise appropriate for an individual's investment portfolio. To the extent that readers have any questions regarding the suitability of any specific investment or investment strategy made reference to in this book for their individual investment(s) or financial situation, they are encouraged to consult with the investment professional of their choosing.