The Latest News

"By providing smart guidance during the financial crisis, the nation's best advisors proved their mettle." Barron's 2010
In 2010, 2011 and 2012 Barron's Magazine lists David Mallach as one of the top one thousand advisors in the United States. On this site you can purchase his books.

Angle Of Attack will soon be available as an MP3 Audio Book
Audio books have become very popular and you can now purchase David Mallach's novels on CD in MP3 format. CDR's with MP3 (music or audio books) have been a popular format for some time now and will play on the majority of CD Players at home and in your car. You can also copy the MP3 files to your memory card or directly to your portable device.
All of the books are narrated by Dave Giorgio. Dave is an audio producer, voice over talent and musician. He has performed live at more than one thousand events, has written hundreds of original songs, and has produced more than 200 audio books and has earned two Gold records.
David Mallach's latest novel "Angle Of Attack" a tense geopolitical thriller is available now!
NOW AVAILABLE! David's latest novel, "Angle Of Attack"
David's latest is available now in printed hardback and soon in MP3/CD Audio Book formats.
"Angle Of Attack, David A. Mallach's seventh novel, takes us from Washington, DC to The Middle East and on to Africa. This book reads like the news pages have come to life with characters we wish were real. Novels about the worldwide terrorism problems are everywhere but this one offers some hope. I enjoyed reading Angle Of Attack. Doug Streeter, La Cañada Flintridge, California."
Order your hard copy by clicking here.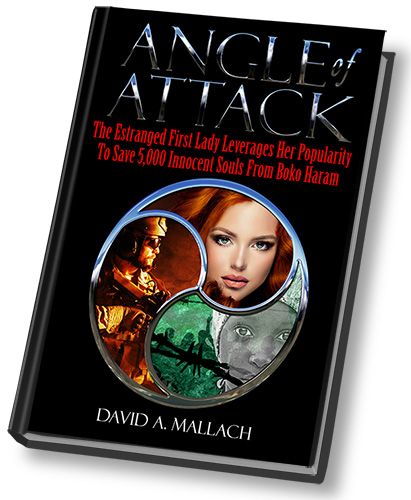 Angle Of Attack is David Mallach's seventh novel.
Following her estrangement from President Becket Rosemore and having mostly recovered from a catastrophic and suspicious car accident Ex-First Lady Camille O'Keefe finds herself at a crossroad. Shall she return to her previous life in the world of the mysterious arts or should she use her public popularity to pursue her dreams of a better world.
A larger than life character with a questionable history in Middle East conflicts approaches her with an idea, If successful this plan will give him a chance to redeem his reputation and be an opportunity for Camille to leverage her public popularity and political power to work with this man and a diverse group of geopolitical characters to go after Boko Haram, the infamous terrorist group that has terrorized so many and also kidnapped countless young woman.

---
This book is a work of fiction. Therefore, it should not be assumed by any reader that any specific investment or investment strategy made reference to in this book will be either profitable or equal historical or anticipated performance levels. It should also not be assumed that the performance of any specific investment style or sector will be either profitable or equal its corresponding historical index benchmark. Finally, different types of investments involve varying degrees of risk, and there can be no assurance that any specific investment or investment strategy made reference to in this book will be suitable or otherwise appropriate for an individual's investment portfolio. To the extent that readers have any questions regarding the suitability of any specific investment or investment strategy made reference to in this book for their individual investment(s) or financial situation, they are encouraged to consult with the investment professional of their choosing.