The Latest News

"By providing smart guidance during the financial crisis, the nation's best advisors proved their mettle." Barron's 2010
In 2010, 2011 and 2012 Barron's Magazine lists David Mallach as one of the top one thousand advisors in the United States. On this site you can purchase his books.
Now available as MP3 Audio Books
Audio books have become very popular and you can now purchase David Mallach's novels on CD in MP3 format. CDR's with MP3 (music or audio books) have been a popular format for some time now and will play on the majority of CD Players at home and in your car. You can also copy the MP3 files to your memory card or directly to your portable device.
All of the books are narrated by Dave Giorgio. Dave is an audio producer, voice over talent and musician. He has performed live at more than one thousand events, has written hundreds of original songs, and has produced more than 200 audio books and has earned two Gold records.
Press and Media Resources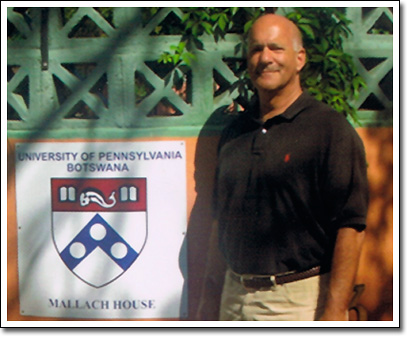 The author at the University
of Pennsylvania Mallach House
in Botswana
Welcome to our media section. Our intention is to give you all the information you need. After reviewing the information here we encourage you to contact us to fill in any information you need or to arrange and interview with David.
The most effective way to contact us is to send an email to press@dmallach.com with your contact number and a time when we can call you to fulfill your request. We hope to hear from you.
David Mallach's life, business career, altruism and his five (soon to be six) novels are a great story that has many angles for many audiences.
Biographical Information
David A. Mallach resides in the Philadelphia area, where he has devoted his entire professional career since 1973 to helping investors develop strategies for income growth and capital appreciation.
David has lectured to investors and professional investment advisors in the U.S.A., Europe, the Middle East and Latin America.

Downloads:

Below are links to biographical information, book descriptions and images. If you need high definition images just send your request to press@dmallach.com and you will receive a prompt reply.

(To download right click on icon and select "Save link (or target) as....")


Biographical Information

Book Cover Images

Images of David Mallach (soon)

Information for
Dancing with the Analysts

Information for
Walking with the Analysts

Information for
Running with the Analysts

Information for
Myth

Information for
The Trillion Dollar Sure Thing

Mallach encourages TROY graduates to work hard and
maintain positive attitude (For full story click here)
"Unless your assets are large enough that you don't need to worry about rising interest rates, this book is essential reading. I have read all of David Mallach's books. Each one presents an interesting, easily read discussion of fairly complex material. Myth is no exception. Don't wait to read it until interest rates have gone up and your bond portfolio is way down." Doug D. – Kingston, Tennessee.
►"Investing in an exciting way. David Mallach has one of the most fascinating jobs. So fascinating, in fact, that some of his stories are truly real life experiences told through the eyes of someone who has been there." Mike Smalla