The Latest News

"By providing smart guidance during the financial crisis, the nation's best advisors proved their mettle." Barron's 2010
In 2010, 2011 and 2012 Barron's Magazine lists David Mallach as one of the top one thousand advisors in the United States. On this site you can purchase his books.
Now available as MP3 Audio Books
Audio books have become very popular and you can now purchase David Mallach's novels on CD in MP3 format. CDR's with MP3 (music or audio books) have been a popular format for some time now and will play on the majority of CD Players at home and in your car. You can also copy the MP3 files to your memory card or directly to your portable device.
All of the books are narrated by Dave Giorgio. Dave is an audio producer, voice over talent and musician. He has performed live at more than one thousand events, has written hundreds of original songs, and has produced more than 200 audio books and has earned two Gold records.
About the Author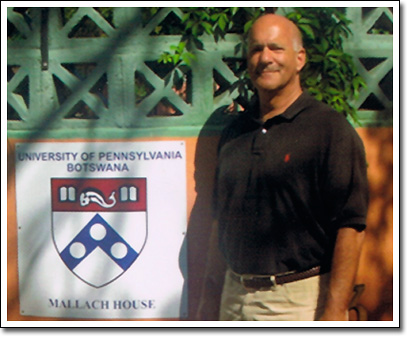 The author at the University
of Pennsylvania Mallach House
in Botswana
David A. Mallach resides in the Philadelphia area, where he has devoted his entire professional career since 1973 to helping investors develop strategies for income growth and capital appreciation.
David has lectured to investors and professional investment advisors in the U.S.A., Europe, the Middle East and Latin America.
Mallach encourages TROY graduates to work hard and maintain positive attitude
Friday, 12 December 2014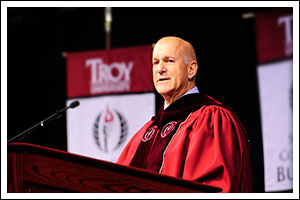 David Mallach
TROY Alumnus, author and finance professional David Mallach delivers the keynote address to graduates during fall commencement ceremonies on the Troy Campus on Friday.
(See Video below)
TROY - Troy University alumnus, author and finance professional David Mallach encouraged TROY graduates to embrace the next chapter of their lives with a positive attitude.
Speaking during Friday's fall commencement ceremony inside Trojan Arena on the Troy Campus, Mallach told graduates that this ceremony was not just an ending but also a beginning.
"More than four decades ago, I sat in a chair waiting to walk across the stage, just as you are today," Mallach said. "For many of you, you have completed the last class you will ever take. Now you have to put all you have learned and experienced together and move on to the next phase of your life. Troy University has equipped you with the tools you need to be successful and now it is up to you. If you work hard and maintain a positive attitude, you will succeed."
While change is a constant in life, Mallach encouraged students to not forget the lessons learned from their mentors. Mallach paid tribute to his mentor, Dr. Johnny Long, TROY's director of bands emeritus, who was in attendance at Friday's ceremony.
"I credit Johnny Long with all of my success in my family and business life," he said.
Mallach, a managing director of investments for more than 40 years, is a 1971 marketing and business graduate. He is a select member of Registered Representative Magazine's Outstanding Advisor of the Year 2007 and Research Magazine's Hall of Fame 2006. In 2012, he was selected as one of the top 1,000 advisors in America by Barron's Magazine for the third year in a row. Mallach is the creator of the well known "Investing for Growth Strategy". He is the father of five children, an accomplished saxophone player, and a registered private pilot.

More than 500 students representing 22 states and 15 nations took part in the ceremony.
Friday, 12 December 2014 Troy University Keynote speaker David Mallach:
Link to Troy University Press Page: Click Here
---
"Unless your assets are large enough that you don't need to worry about rising interest rates, this book is essential reading. I have read all of David Mallach's books. Each one presents an interesting, easily read discussion of fairly complex material. Myth is no exception. Don't wait to read it until interest rates have gone up and your bond portfolio is way down." Doug D. – Kingston, Tennessee.
►"Investing in an exciting way. David Mallach has one of the most fascinating jobs. So fascinating, in fact, that some of his stories are truly real life experiences told through the eyes of someone who has been there." Mike Smalla