The Latest News

"By providing smart guidance during the financial crisis, the nation's best advisors proved their mettle." Barron's 2010
In 2010, 2011 and 2012 Barron's Magazine lists David Mallach as one of the top one thousand advisors in the United States. On this site you can purchase his books.
David Mallach Delivers Keynote Address at Troy University
TROY - Troy University alumnus, author and finance professional David Mallach encouraged TROY graduates to embrace the next chapter of their lives with a positive attitude. More plus video
Now available as MP3 Audio Books
Audio books have become very popular and you can now purchase David Mallach's novels on CD in MP3 format.You can also copy the MP3 files to your memory card or directly to your portable device.

Welcome to dmallach.com. David A. Mallach resides in the Philadelphia area, where he has devoted his entire professional career since 1973 to helping investors develop strategies for income growth and capital appreciation. David has lectured to investors and professional investment advisors in the U.S.A., Europe, the Middle East and Latin America.
Newest Novel Now Available!
Listen to a sample from the audio-book version: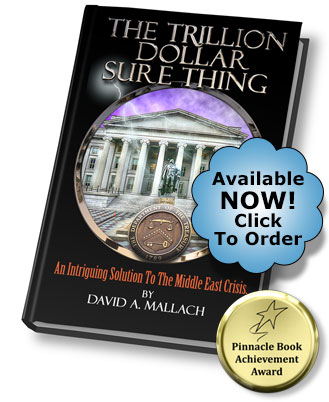 David Mallach's
latest novel,
"The Trillion Dollar
Sure Thing"
David's latest is available now in both printed hardback and MP3/CD Audio Book formats. Sign up to our mailing list to be kept up to date. Click Here
Order your hard copy by clicking here.
From the dust jacket:
Front inside leaf
A Chinese super aircraft carrier with two runways – twice the size of anything the United States Navy has at sea – is steaming towards the Persian Gulf with bad intent.
The Doomsday Clock is ticking towards Armageddon. Armed with elite training, political connections, and the intuitive power of a past-life, Becket Rosemore holds his ground and fights for the survival of the world.
The Middle East is about to change for the better. Century old problems will be uprooted and redirected toward a new beginning. A new future for all people in the Middle East is about to begin!
Back inside leaf
The Trillion Dollar Sure Thing….in a world where we take everything for granted, everything is about to change.
The children of the Middle East will now have a chance to live and prosper in peace. Their future will be different than their past. This story may hold the answer!
David Mallach's first four novels: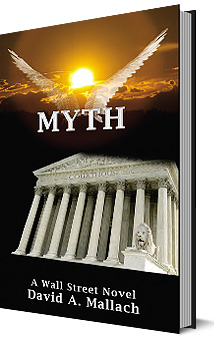 "Wall Street Thriller" Myth
►From Reviewer, R. Ebbs (NetGalley Review)
Rating: 5 out of 5 stars
"Myth"-a compelling court drama based on an investment conundrum January 23, 2014 by rbsprods-top 500 reviewer & amazon.com vine voice (click for full review)
►"A courtroom drama that indicts the dominant strategies of the financial planning industry, telling an enjoyable story at the same time." Kirkus Reviews (click for full review)
►"Mallach's writing is sharp and compelling. His characters are well crafted. A simple tap on the lip, for example, speaks volumes about Brown. Stains on Marat's clothes reveal that he is as sloppy as he is brilliant." Diane Gardner – ForeWord Reviews (click for full review)
►"Myth is a must-read for any investor. Through its entertaining short story, Myth lucidly explains David Mallach's highly successful growth of income strategy and dispels the myth of the bond market's safety. Through Myth, David Mallach again distinguishes himself by demonstrating his passion for educating investors in his use of analysts in determining what to buy, when to sell, and how to re-invest. Myth provides an illuminating guide through the forest of issues that stand between investors who seek to protect principal and safely generate meaningful income." Joseph D. – Philadelphia, Pennsylvania.
►"Investment Strategy Made Clear, March 1, 2014" By Gabby Hayze "Mo Addams" (click for full review)

Johnny Long is back and better than ever as he takes on the most challenging crisis to hit the financial-services industry in decades. In Myth, we have a harrowing tale involving a retired couple in dire distress. Their income has been decimated, the result of depending on fixed income over years of declining interest rates. Their options are few and their future bleak. How will they survive?
They turn to Lucien Marat for help. Armed with a passion to help others, Lucien Marat takes on Wall Street in a trial that he hopes can save millions of retirees from certain ruin. What unfolds is a shocking account about "business as usual" on Wall Street as well as a probing look at consumer accountability. Along the way, we learn that there is cause for hope, that there is another way!
In this, his fourth novel, David Mallach triumphs. His handling of controversial material is both insightful and fair-minded. Myth is the kind of book that can rock the foundations of Wall Street. Myth is far more than a novel; it is a startling expose wrapped masterfully within a narrative that grips the reader from the start and refuses to let go. In a world where everybody thinks they are right and where being wrong can cost billions, Mr. Mallach reminds us that our perception of "right" and "wrong" can itself be a myth.......Read More About Myth
"In broadcasting I adhered to the principle of 'KISS' – Keep It Simple Stupid. Myth is so beautiful in its simplicity, that it's remarkable that not every advisor follows it." Steve L. – Six Peaks Ranch, Colorado.
Dancing With The Analysts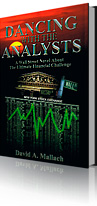 ►"A powerful novel by a Wall Street insider. A must read for anyone involved in stocks and the market." -- Maribel Suarez, Investment Associates, June 27, 2002
In this first offering of financial thrillers, author David Mallach introduces Johnny Long, the man with the financial knowledge, the man who develops investment strategies and makes them available to the Everyman, the man who sees the true risks and rewards behind everything. From the outset, Johnny must make choices – hard choices – in a world of high-stakes investing and intrigue in which choosing wisely means a life of purpose and choosing poorly means unaccomplished dreams.

In this novel, Johnny shows that "money is nothing in itself." Rather, it is what we do with wealth that brings meaning to a life well lived. Here begins the relationship as Johnny meets Austin Montgomery, a college student cut adrift and ill prepared for a world in which he has no family, no money, and no mentor. Together, Johnny and Austin accept a challenge in which they stand to win millions… or lose everything in the process......Read More
---
Walking With The Analysts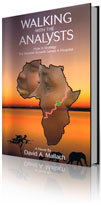 ►"An invaluable gift of knowledge to all of us who seek need growth of income for ourselves and to help others. Thank you, David Mallach!"
Gustavo Barrantes, Charity Executive, Latin America
Walking With The Analysts is a gripping, often gut-wrenching novel in which the worlds of Wall Street and third-world poverty collide. Renowned money manager Johnny Long accomplishes for himself the challenge of bridging these seemingly disparate worlds together. Racing against the clock in a desperate attempt to rescue an African hospital from financial ruin -- saving countless lives in the process – Johnny Long must adapt his investment strategies to stave off the erosion of a deteriorating economic environment. There is far more at stake for Johnny Long than simply landing a new account. There are lives at stake… men, women and children. And values extend beyond portfolio worth........Read More

►"At last! A follow-up to Dancing with the Analysts. That book changed my whole investment approach." --Jack Evans - Southwest Investment Partners
►"Need more income in these times of rising costs? This book is for you." --Maribel Zuniga -Director of Finance- ACE Enterprises
---
Running With The Analysts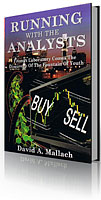 ►"After reading this I feel like there is hope again." Investor Todd Wood
►"Investing in an exciting way. David Mallach has one of the most fascinating jobs. So fascinating, in fact, that some of his stories are truly real life experiences told through the eyes of someone who has been there." Mike Smalla
Renowned money manager Johnny Long is back and this time the stakes are leveraged like never before. This third offering in David Mallach's critically-acclaimed series of "financial thrillers" takes us into the cut-throat world of options trading and clandestine hedge funds to expose the men behind the curtains who are changing our world faster than we know. In this novel, Johnny Long finds himself in the middle of two worlds colliding as he tiptoes along the fault line of human nature where money meets morality. Caught up in a high-stakes investing contest among the world's most powerful investors, Johnny Long

must come precariously close to the breaking point where the majestic façades decorating "progress," "knowledge," "wealth," and "philanthropy" crumble to reveal the true modes of power and resistance are lurking behind.........Read More
►March 18, 2011 "Another Winner -- Mallach's accumulated wisdom and experience teach you everything you need to know about successful investing in a fun, easy to read format. Never before have I read a novel that captivates you from the beginning and leaves you with incredible knowledge that can change your financial future. This novel makes you think and feel; and no matter how many times you read it something else comes to light that you had not previously thought about." KA Bushnell - Senior Vice President
---